She Kills Monsters: Virtual Realms
Play by Qui Nguyen
Directed by Anna Klein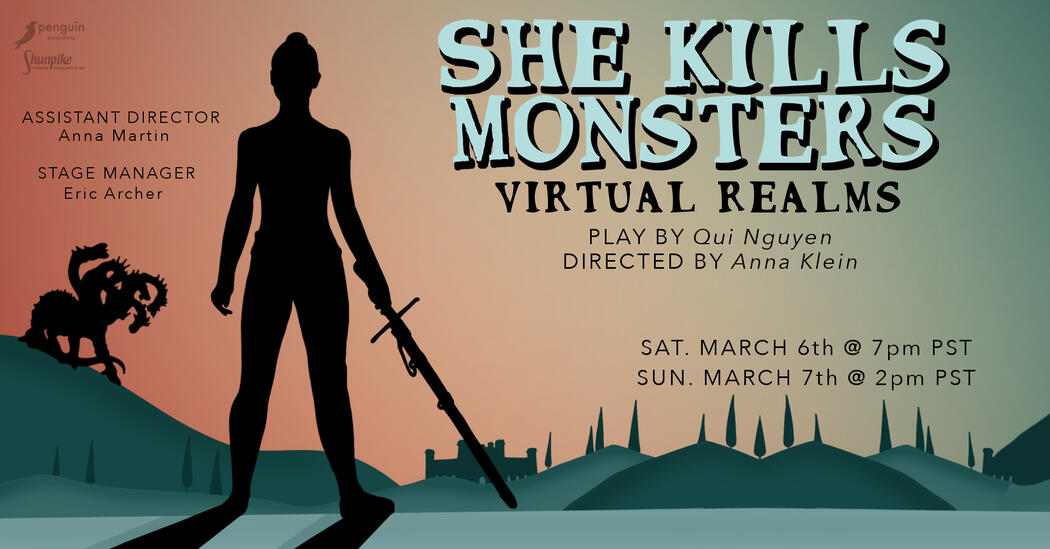 Parental guidance suggested – Some material may not be suitable for children.

She Kills Monsters: Virtual Realms includes strong language, and mature themes of grief, loss, homophobia, and sexuality, as well as some depictions of fighting and violence. Viewer discretion is advised. To view an extensive list of trigger warnings, visit our webpage
---
THE CREW
| | |
| --- | --- |
| DIRECTOR | Anna Klein |
| ASSISTANT DIRECTOR | Anna Martin |
| STAGE MANAGER | Eric Archer |
| TECHNICAL DIRECTOR | Caitlin McCown |
| SCENIC DESIGNER | Ivy Gilliam |
| PARTY CHOREOGRAPHER | Meriam Shams |
| CHEER CHOREOGRAPHER | Lauren Witte |
| PRODUCING ARTISTIC DIRECTOR | Shana Bestock |
| DRAMATURGES | James Haeck and Hannah Rose |
| SOUND DESIGNER | Anna Klein |
| CREW | Elle Jerbi |
---
THE CAST
| | |
| --- | --- |
| AGNES | Harriet Cohen |
| TILLY | Ella Meulen |
| CHUCK | Miranda Gilbert |
| VERA / CHEERLEADER 1 | Cora Pearlstein |
| MILES | Stellan Rude |
| KALIOPE | Chloe Kampmeier |
| LILITH | Sadie Gingold |
| ORCUS | Tyler Kalvert |
| EVIL TINA / NARRATOR 1 | Emma Gunter |
| STEVE / NARRATOR 2 / CHEERLEADER 2 | Elle Jerbi |
| FARRAH / EVIL GABBI / NARRATOR 3 | Ginger Schreiber |
---
DIRECTOR'S NOTE
It is so rare as a young person to be able to tell a story about the experiences of young people, but She Kills Monsters has allowed us to do just that. This unique play focuses on the struggles of being young, told through a lens perfectly outfitted for the digital age, and filled with killer fairies, evil succubi, and demonic eyeballs with teeth.

I knew very little about Dungeons and Dragons when I first read Qui Nguyen's She Kills Monsters. For those unfamiliar with the world of D&D, it's a fantasy tabletop RPG, played predominately with a set of dice and your imagination. I, like Agnes, was initially wary of all that D&D had to offer. However, when I was finally coaxed into playing with a group of particular persuasive friends, I learned that the world of Dungeons and Dragons isn't too dissimilar from the world of theatre. Much like performance, D&D is escapism at its finest; allowing the players to immerse themselves in a world with diverse characters, unfamiliar landscapes, and complex relationships. D&D is a way of exploring oneself through a new lens-- It's no wonder why Nguyen figured out that this game lends itself to the stage.

She Kills Monsters is a touching story about self-determination, bravery, and acceptance; things we all need a little more of nowadays. In these COVID times, we are thirsting for escape. We've been stuck in home, fighting our own personal monsters for a year now. Agnes, in her grief, has been doing the same. Agnes' journey of self-discovery, and her escape into her own imagination through the fantasy world of Dungeons and Dragons is something beautiful, hopeful, and surprisingly relatable. At its core, She Kills Monsters is a tale of young people persevering through treacherous terrain and hatred, dragons and killer fairies, intolerance and grief. We hope that, in watching Agnes' story unfold, you continue to persevere alongside us.
---
SPECIAL THANKS
Buy Nothing Meadowbrook / Matthews Beach Facebook Group

Cheryl Klein

Paul Bestock

Mary Beasley

Izabel Mar

Bella Zhou

Linda Yan

Kevin Harland

The Penguin Advisory Council